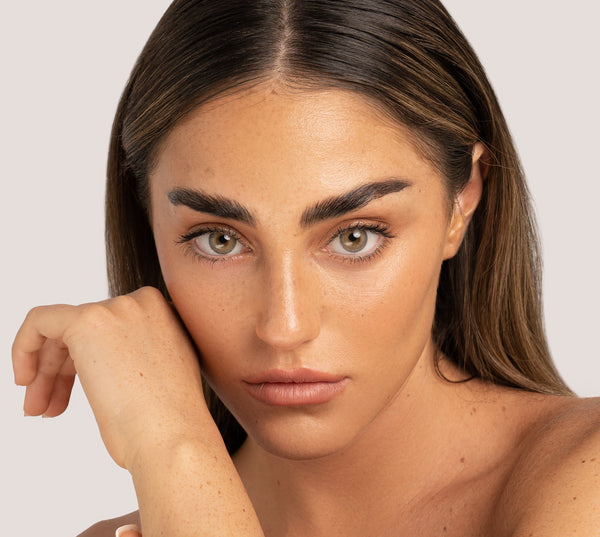 With fantastic color and even better quality in every lens, Dimple is proud to bring you
premium color contact lenses
that will change the way you look at the world. Our Honey collection, available both in our natural Mellow and dramatic Hello ranges, gives you a warm, bright brown that's rich and luscious. Let's take a look.
Honey Color Contacts
Whether it's the
natural light brown contacts
from our Mellow range that have caught your eye, or the added intensity of the outer liminal ring that makes our Hello range bigger and bolder, we have the perfect honey eye lens for you. Rich ambers and honey-sweet tones make this a stand-out shade that's fun to play with, so let's get going!
Manufacturing
Of course, every Dimple lens is made in Australia to only the highest standards. Our
honey contact lenses
are formulated with 45% Methafilcon A and 55% water, giving you a lens that's more hydrating than any other on the market. We ship our lenses in a BioMoist formula that will ensure your eyes feel comfortable while wearing them, and we make sure to use recyclable materials wherever we can, too.
Quality Control
All the design standards in the world wouldn't make up for poor quality control. Dimple makes sure we check every lens pair to make sure they're meeting our exacting standards. Whether you're Mellow or Hello, Dimple makes sure you receive only the very best color contacts for your eyes.
How to Pair
Eye Shadows
Many people who use hazel honey lenses opt to warm up the tone with soft peaches, richer yellows, and warm toffees. Warm, smokey colors look great too. You can also use the warmer metals like copper and gold. We suggest opting for dark brown liner and mascara rather than black, to get the best effect from your
honey color lenses
.
Hair Color
If you're looking to really bring out the sparkle from your honey color contacts, look to deeper, warmer shades of brown. Avoid ashy and cool undertones, and go for the ambers, dark chocolate brown, and anything with a warm honey base.
Skin Tones
Dimple firmly believes that our
color contacts
are for everyone! However, as with hair, skins that have warm undertones will add a little extra sparkle to our
hazel honey lens
collection. From richest ebony to pale peach, a warm undertone will match your new lenses perfectly.
Frequently Asked Questions
How To Clean
Buy a high-quality contact lens cleaner for your lenses. Gently rub (in a circular motion) the cleaning solution over your lenses once you remove them. It should be at least 10 seconds. Rinse the lens (if the solution advises doing so) and store them safely in the contact lens solution in their case. Never tip or tilt your case. 
Are Color Contacts Safe?
Color contacts are safe for daily use if properly fitted to your eye. You will need to care for them correctly, however, so that they do not dry out or take damage that could hurt your eye. You will also need to be responsible about cleaning your lenses, and don't handle them with dirty hands or if you have an eye infection.
Can You Wear Honey Color Contacts with Astigmatism
You absolutely can wear your honey brown contacts with astigmatism! You need a slightly different lens shape- called a toric lens- that will help correct the effects of your astigmatism as well as look fantastic. While not all color contact lens makers make toric lenses, Dimple does, so just send us your prescription and we'll get right on it.
Introduction to Dimple
Who We Are
It's Dimple's mission to bring you natural,
premium color contacts
that you can trust. Gone are the old ideas about how you wear lenses. It's time to have fun and experiment! Why stick with mundane and boring when you can reinvent yourself as you choose? Dimple is proud to hear how many of our customers are asked 'are those real'? Our lenses are soft, high-quality, and comfortable for everyday wear- the Dimple promise!
Why Our Lenses
Soft, comfortable, high-quality lenses are essential if your new honey contacts are to look believable. No one wants to spend all day fussing with their eyes, after all! Whether you need non-prescription or prescription color contacts, we have the glamor, style, and premium quality you need. Our Mellow range delivers subtle, natural color while our Hello range gives you a little more pop. Both will look fantastic, so why not try yours today?