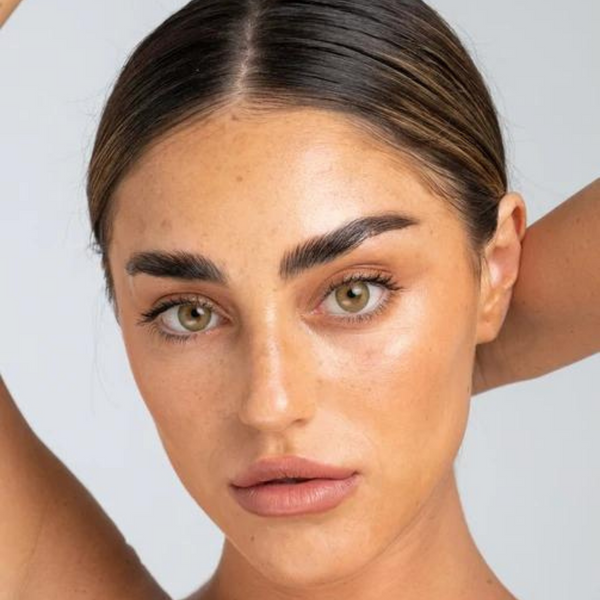 Dimple is proud to offer
color contact lenses
that meet a full spectrum of tastes, each with the same quality and comfort you've come to know Dimple for. Whether you're Mellow or Hello, light or bright, Dimple has the perfect
color contacts
for you.
Hazel Color Contacts
Hazel is a dazzling eye color, well suited to a vast variety of skin tones and looks. It has the intrigue and soft glow of green, with the warm depth of brown mixed in. Dimple's Mellow collection offers you
light hazel contacts
that look realistic across a spectrum of eyes, while our eye-catching Hello collection offers a brighter three-tone shade that demands attention wherever you go.
Manufacturing
Our
Hazel color contacts
are made in Australia to the highest global standard (FDA, TGA, CE). Our lenses also contain a specially formulated water balance, made from 45% Methafilcon A and 55% water. This, combined with our  BioMoist formula which mimics the eye's natural tear film, means our
hazel eye contacts
are comfortable no matter how long you wear them. Plus, we always make sure to use recyclable material as much as we can!
Quality Control
Quality control in the Dimple line is rigorous. We know it's not enough to just manufacture with quality in mind, we have to ensure we're delivering at every step.
How to Pair
Hazel is a lovely and versatile shade, and a great way to shake up your look. Here's a few tips.
Eye Shadows
With
hazel brown contacts
, you can enjoy the colors that make green pop, or choose to mellow out with shades that bring forward the brown. Even better? Look for green or purple shades with metallic bases, like gold and emerald. This will make the hazel really stand out. Soft pinks also look good with hazel. In fact, you will be able to rock most colors with this contact lens.
Hair Color
Most natural hazel eyes are found with dark blonde or lighter brunette hair. It's a great way to lift mousier tones, and lend a touch of warmth to your skin. While almost any hair color could work with hazel, we suggest keeping it to warmer undertones- so opt for auburn, not blue, undertones on black hair, for example.
Skin Tones
Hazel contact lenses
work well on a huge variety of skin tones. In fact, they're wonderful on amber and coffee skins, or a tanned olive. But they also enliven very pale and very dark skins, so it's a versatile choice. If you're wondering if
hazel contacts
will look good on you, rather look at your color undertone on your skin than your actual skin color. Warm undertones will rock hazel, while it can be a little draining or ashy on cooler undertones.
Frequently Asked Questions
How To Clean Color Contacts
Dimple's
hazel eye color contacts
clean the same as any other contact lens. Use a high-quality, lens-specific solution. Apply a couple of drops and gently swirl around for 10 seconds, Then rinse (if advised) with the solution and pop them in the carry case. Make sure to keep them in solution so they don't dry out.
Are Color Contacts Safe?
A
hazel color lens
is safe for most people to wear. It is important you observe good hygiene and store them properly, of course. Don't use them if you've recently had an eye injury, surgery, or an eye infection, however. There will be plenty of time to wear them when you're better!
Can You Wear Color Contacts with Astigmatism
You can wear hazel prescription contacts if you have astigmatism. Also called toric lenses, these are shaped differently to ensure that you can see through them perfectly without adverse effects. Dimple is able to assist with prescription color lenses, so don't hesitate to get in touch with us today.
Introduction to Dimple
Who We Are
It's Dimple's mission to bring color to life! Natural-looking color, utmost comfort, and durability are the name of our game. Add it to a scintillating range of sizzling colored lenses, including our best-selling hazel lens, and you have quality lenses that help you feel the very best about yourself.
Why Our Lenses
As soon as you pop in a pair of Dimple's color contacts, you'll understand what keeps our customers happy. From the careful design and BioMoist technology, right through to the realistic, vivid color, there's plenty to love. But why should we keep telling you- why not try a pair today and see for yourself!