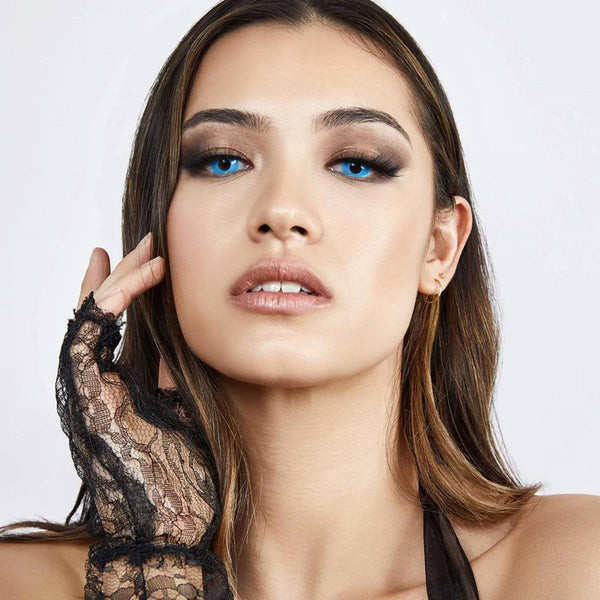 Blue Color Contact Costume Ideas
Step into your role as Ice Queen or Night King with blue contacts that make you look like you could turn anyone to ice. Or enter the world of anime where you can fight to save the world with bright blue-eyed heroism. Many costumed characters, especially in anime, have blue eyes so you can't go wrong picking blue eye contacts for your costumed night out. These brilliant blue contact lenses can instantly transform dark brown eyes into a sea of bright blue. When you want to add that extra touch to any cosplay outfit, you can't go wrong with blue contact lenses.
High-quality color contact lenses include the following features:
high water content to ensure the eye stays moist and comfortable all day
UV protection so the natural eye is protected from the sun's rays
thin material is uniform across the lens so it fits well and covers the natural eye completely
designed to stay in place all day
If you are looking for some ideas on how to turn your blue Halloween contacts into a fierce cosplay character, try one of these costumes:
Costumes for blue contacts
Sailor Moon
When you are looking for a fun costume to wear with your blue Halloween contact lenses for the next Anime Convention or for a Halloween party, Sailor Moon is one of the most popular costumes and is not too difficult to acquire. Sailor Moon is part of the Manga series and the character joins forces with other sailors to defend the world from its enemies. If you are familiar with anime, then you know Sailor Moon. With her long blonde hair, blue and white uniform and high red boots, this character is one of the most identifiable in the cosplay world. With costume sites always promoting the latest designs, it is easy to have your Sailor Moon outfit shipped right to your door.
White Walker
HBO's Game of Thrones has sparked many a cosplay event and there are no limits to the characters available for inspiration. The show features the evil White Walkers who are on a journey to kill and absorb all the hot-blooded humans in their path. One distinct feature of the majority of White Walkers is their piercing blue eyes that stare lifelessly at their prey. You see the eyes of the fallen victims turn a brilliant blue when they reanimate and become one of the Walkers' army. The costume for this character can be anyone who comes into contact with the army, but if you really want to impress, go with the Night King costume and makeup. There are makeup tutorials that show you simple ways of creating one of these evil creatures and the blue contacts complete the picture. With blue Halloween contact lenses, you will become one of the dead that walks the earth with the Night King.
Harley Quinn
No one ever gets tired of this dynamic anti-hero of the DC comic world, and her signature pink and blue pigtails make for a great cosplay character. Harley has a standard outfit she wears in all renditions of her on-screen and in the comic books. These outfits can be purchased online or you can DIY them at home which is always a lot of fun! The hair and makeup are the most important part of any Harley Quinn costume. You can buy a blonde wig, put it in pigtails, and then dye it blue and pink. Blue and pink are common themes with makeup and clothing. When you color your eyes with blue and pink, your blue Halloween contact lenses really pop and complete the entire outfit. Wearing your blue costume contacts with Harley's choker, top and shorts will make this
Goblin King
Jareth, the Goblin King was brought to life by the late David Bowie in The Labyrinth. This costume is considered retro-chic and will be sure to impress and attract others at your next cosplay gathering. The best color contact lens to wear for the goblin is a brilliant blue lens which makes the eyes pop when you peek out from all of that crazy white hair. The costume is very elaborate and can be purchased as an ensemble. The makeup is the best part of this character with dramatic black lines that shape the eyebrows into a dramatic arch that perfectly accompanies your blue Halloween contact lenses.
Any costume you decide to wear can only be enhanced with beautiful blue contacts that make the eye pop and make that dead stare extra creepy.